2014年07月15日
What is a Kutchan's feature in summer ...
This season when you drive a road, you may see the field of flowers blanketed with pink or white color.
Such a beautiful field isn't it?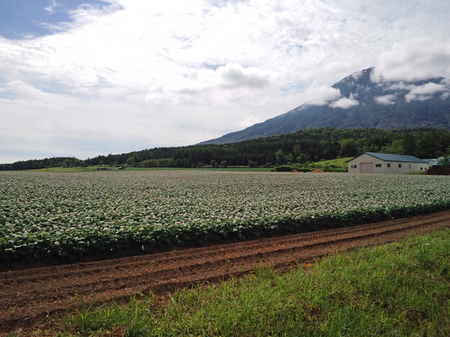 These are potatoes' flowers.
Therefore, we should say "potato flowers".
Cultivation of potatoes in Niseko and Kutchan areas
has started since MEIJI era.
Nowdays cultivation of potatoes has become one of main industries in the area
and also Niseko and Kutchan have emerged as a major production area of potato.

If you visit Kutchan town's homepage, you may obtain
the informatoin of potato flowers and potato flower map.
Then we advise you to check the site before you come to Niseko this season.

NOTE:
The field is actually farmers' private cultivation and farmers are very much care about them for growing.
Therefore, please do not enter the field to approach and see the flowers.
(m)
posted by Niseko Izumikyo at 20:15| 北海道 ☔|
Comment(0)
|
日記
|

|