It's already MAY, isn't it?
The cherry‐blossom front is moving northward
and it's come to the southern area of Hokkaod just before.
We are looking forward to enjoying seeing Sakura in Niseko.
By the way, there is another Sakura info.
If you come to Niseko this Spring season,
why don't you go to Shu Ogawara Museum of Art?
"Satsuki Kitaguchi Four Seasons SPRING" has been held there by the 2nd of June 2014.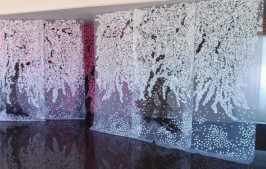 <Satsuki Kitaguchi>
You may enjoy another Sakura art there.